Location: Sipoo
Type: landscape planning, participatory planning
Client: Municipality of Sipoo
Year: 2020
Team: landscape design Nomaji, participation Et May Oy
The masterplan for the central park of Nikkilä was created by utilizing the method of participatory ¨budgeting. The aim was to encourage participation from the locals with the design and choices made with the park plan. The participatory budgeting was realized as a three-stage process where people could first provide ideas for the park functions, then take part in the further development of the ideas in a workshop and finally vote between different design plans for the park.

The design ideas from the locals were collected in an application called Chaos Crowd and also in physical location points set up specifically for the purpose. Nearly 400 ideas were collected in total. The ideas were then arranged by different themes for further development.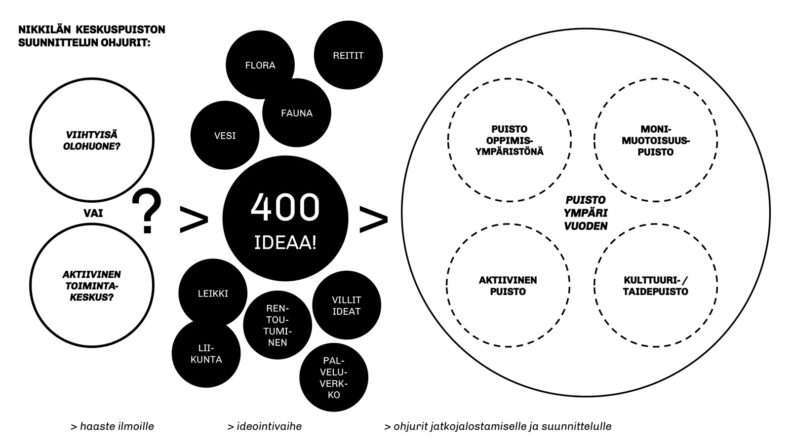 The workshop for further development of the ideas was held remotely. The participants were asked to evaluate the ideas through different roles such as a part of a family with small children, a senior or young citizen or a cultural person. At the end of the workshop, four different types of service paths were created, and the most important ideas started to become clear.

Based on the workshop results, eight different design proposals were drawn and expense evaluations for the realization were done for each design. The locals then had the opportunity to vote for their favorite. Everyone had 600 000 € at their disposal to use how they wished. The four favorite proposals were then picked for the basis of the masterplan: blossoming flower garden, grand plantings, diversity and the library square.
Located in the northern part of the area, the grand plantings are a colorful gateway to Nikkilä. The plantings consist of annual and perennial vegetation. There is a wide diversity of species and the plants are arranged by colors. Located in the middle area of the park, the diversity park makes a new type of addition to the nearby learning environment. Amidst the diverse nature it is possible to explore the natural phenomenon and various organisms. A pond for runoff water is also build with an adjacent wooden platform to observe the surroundings. At the southern part of the park, on the former field next to the woods is located a blossoming flower garden. At the center of the area, a park-like grass area is bound by blooming trees and meadows. The small square next to the library is renovated as an inviting outdoor space for people to spend time and meet each other.