Location: Espoo
Type: ideaplan, recreation
Status: implementation planning in process
Year: 2019 ideaplan
The City of Espoo asked for different types of concept level idea plans for the Pitkäkallio area ranging from renovating the old ruins in the area to developing it for recreation use. The interesting history of the place was a starting point for designing the idea plans. During World War II the area served for air defense purposes and for a short period in the 1970's it was an adventure playground known as "Casablanca". The current ruins however mostly originate from a building that was previously located in the area and got torn down in the 1960's.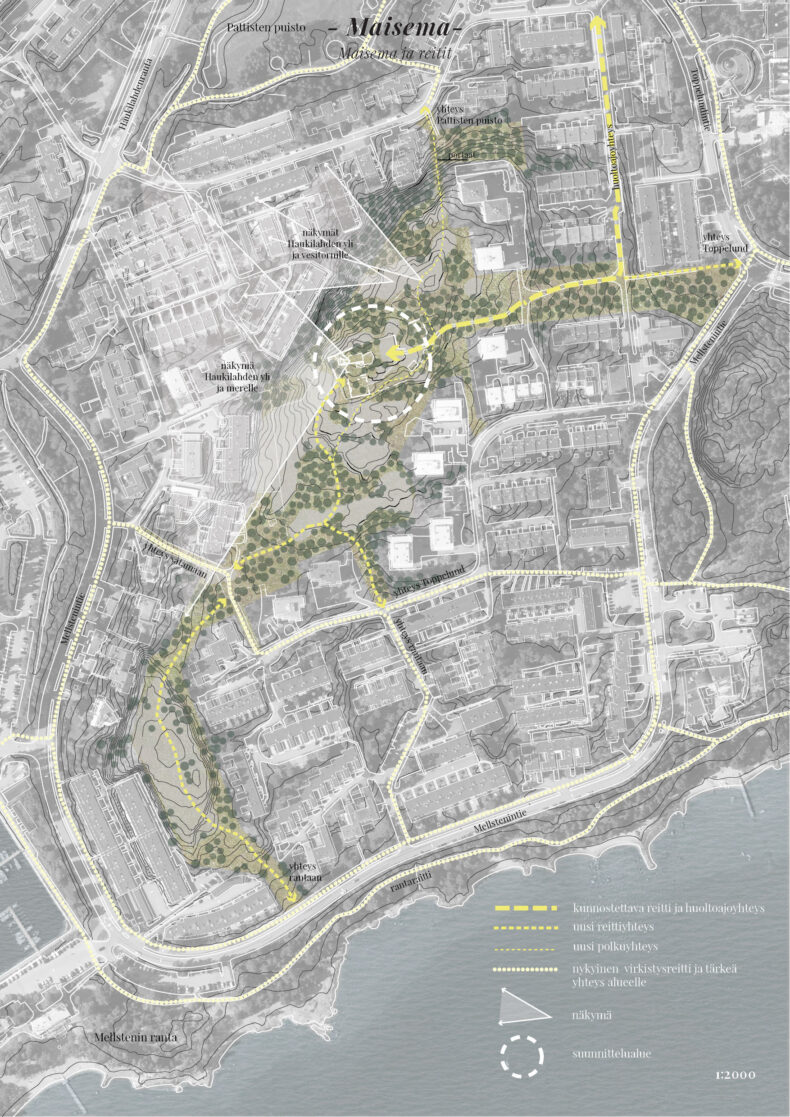 Culture levels
A versatile place for spending time and arranging small performances is created on top of the Pitkäkallio in the culture level. The current ruins serve as a basis for wooden platforms and stairs. The platforms and stairs function for example as a stage and an auditorium for events. From a specific vantage point, a grand view over Haukilahti and the sea opens up.
Adventure
In the adventure option, the ruins function as a parkour-like environment which provokes the movement of visitors. The adventure is a combination of the current spirit of the place with various rough concrete structures and platforms in the middle of the nature, and the history of the place as the adventure park Casablanca. The versatile area enables climbing and balancing as well as strength training.

Sound and light
The sound and light option is an environment which refers to the military history of the place. During the Second World War the most important equipment positioned at this site were acoustic devices that helped to locate arriving enemy planes by capturing their sounds. Their positions were then revealed visually using searchlights. On the sound and light proposal, the history of the place is presented on an info board located in the corner of the barrier wall. The contents of the info board consist of photos of the historical military equipment while also adding spotlights, reflecting surfaces and other gadgets in the surroundings to tell the history of the place in a more playful way. This creates an interactive environment in which the visitor can be part of the place and the experience while at the same time learn about the history of the place.
Comments and thoughts about the different idea plans were collected online from the residents. The park planning was started based on the feedback received and will be finished by the end of 2020.