Location: Helsinki
Type: competition, green block, low-carbon design
Status: Low carbon green block -plot competition 11/2020-3/2021: first place. The planning continues 2/2022
Year: 2020-2021
Organizer: Helsingin kaupunki
Team: Anttinen Oiva Architects, Hartela, Nomaji Landscape Architects
Our proposal "Grün in der Mitte" in cooperation with Anttinen Oiva Architects and Hartela won first place in the competition for the low-carbon green block of Verkkosaari. In addition to architectural and urban values, the evaluation of the competition praised low carbon and environmental values, including energy performance, carbon footprint and green factor. The green efficiency of the planned block is 2.05 with a minimum requirement of 0.9. This was achieved thanks to the green heart of the yard as well as the green roofs.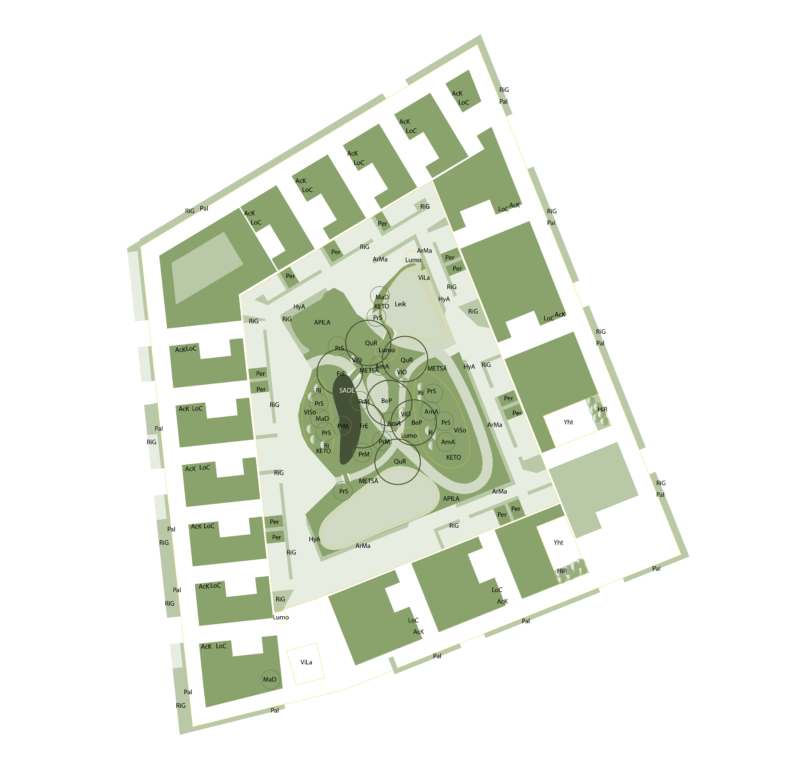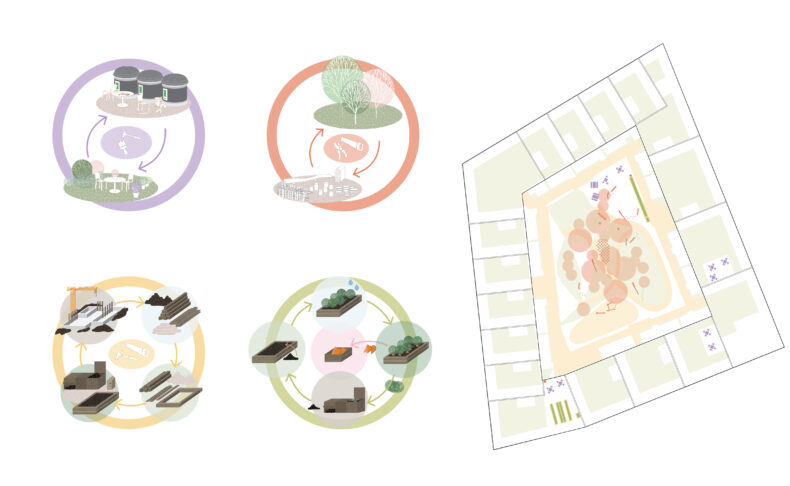 The themes of the materials used in the yard are durability, low carbon and recyclability. This is reflected, among other things, in the recycling of timber during construction, zero plastic used on green roofs, the low need for maintenance of planting areas, and the semi-enclosed water and nutrient cycles. The yard retains63% of the rainwater generated on the plot.
In the competition evaluation, our proposal was especially praised for its lush, park-like courtyard, which was the only one of its kind in the competition. Thanks to the wall-like block, a sheltered courtyard oasis is created, where large trees bring an atmosphere of a small urban forest. The courtyard is bordered by private courtyards with hedge and pergola zones. The courtyard wall and the vines growing in it soothe the front of the private yards.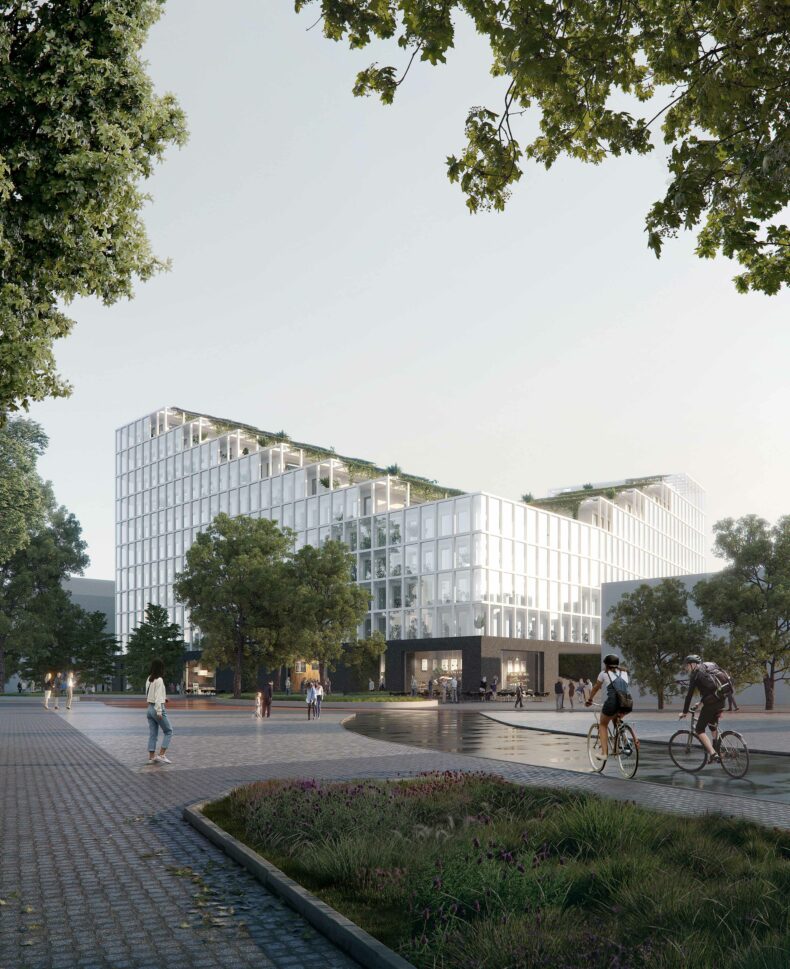 Due to the large size and direct contact to the soil the center of the yard allows both the growth of large, wide-width trees and the more natural movement of water according to humidity conditions – either downstream or capillary upwards from groundwater. There are also functional areas in the yard, such as a playground and a large sun terrace with barbecue shelter.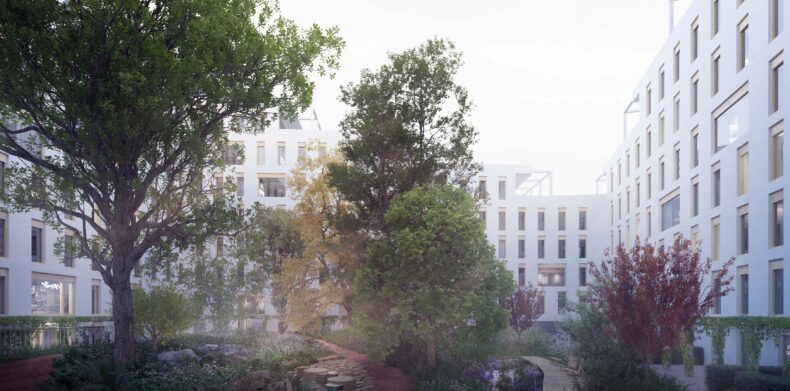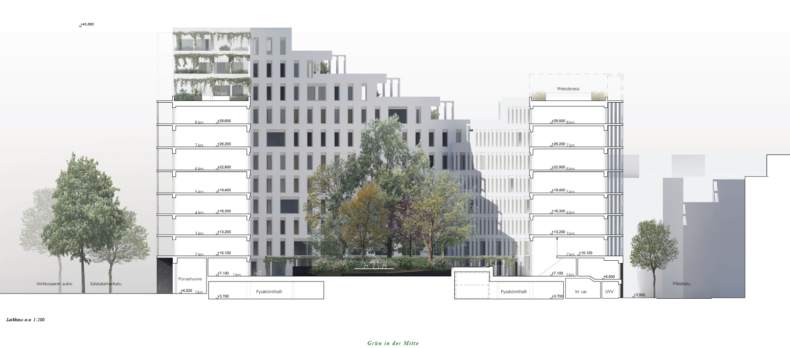 The roofs of the buildings are terraced from the towers in the northwest and southeast corners to the lower northeast and southwest roofs. This creates a stepped roof that creates both private and semi-public areas for residents to use. Surrounded by vines and small flowering meadows, the roof terraces create an urban maritime landscape and allow for sunbathing, rooftop cultivation and cooling off after a sauna.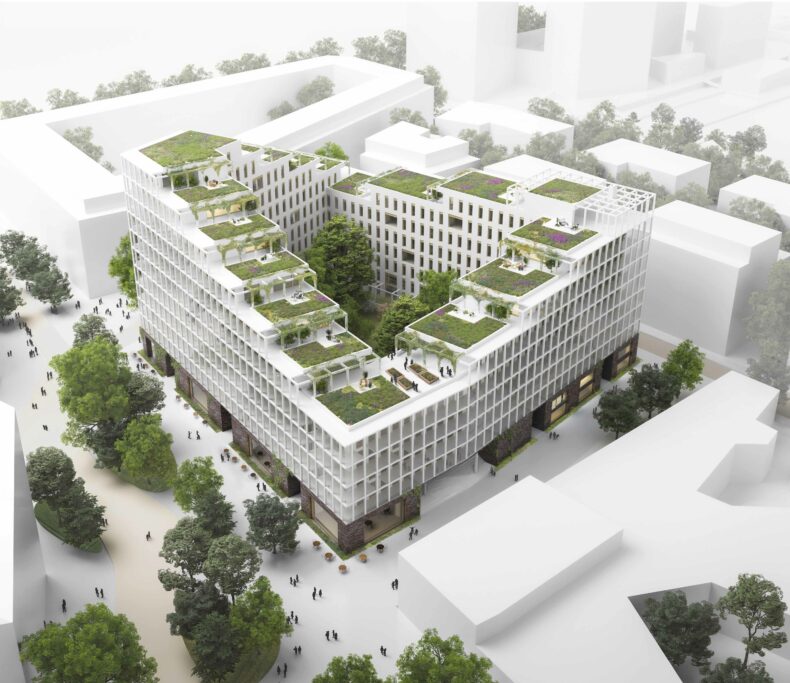 Visualization Brickvisual