Location: Puotila, Helsinki
Type: yard design
Year: 2020
The plot of the Puotila elementary school is centrally located between the residential area and the metro station. The old elementary school and barracks were demolished under the new building. In cooperation with the architects the building was desided to be located in the northeast corner of the plot.
The health and well-being effects of nature are utilized in the school yard through the forest school and the edible school garden. The yard's existing vegetation has been preserved as much as possible. The existing vegetation was inventoried at the beginning of the planning work. The area of ​​the forest school formed by the current grove contains the opportunity for a more peaceful stay, balancing and teaching.
An important part of the yard concept is doing and experiencing it yourself. Pedagogical elements that promote learning have been taken into account in the yard, such as free space for science and art projects, spaces for outdoor education, opportunities for hands-on work and construction in the project yard. Mathematical patterns have been used in the paving, asphalt painting and concrete surfaces under the roofs. The goal of patterns is both to act as pedagogical elements and to activate students to move and play. Special structures such as the grandstand structure integrated into the building, the sports field grandstand and the sitting areas located at the edge of the forest school also serve as outdoor teaching areas. Stormwater is treated in nature-based structures.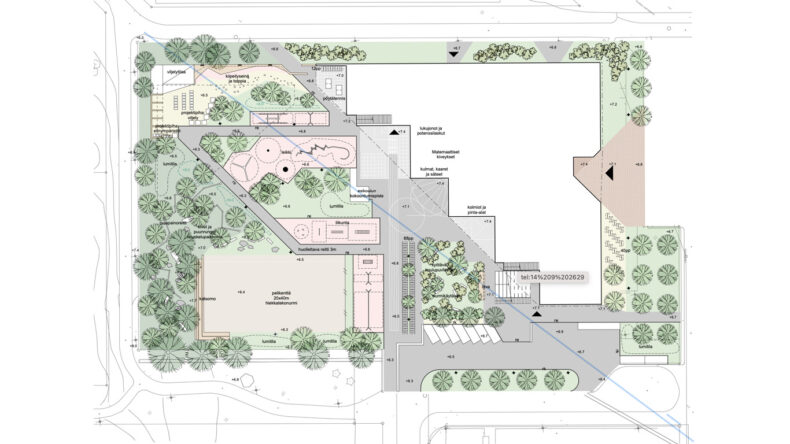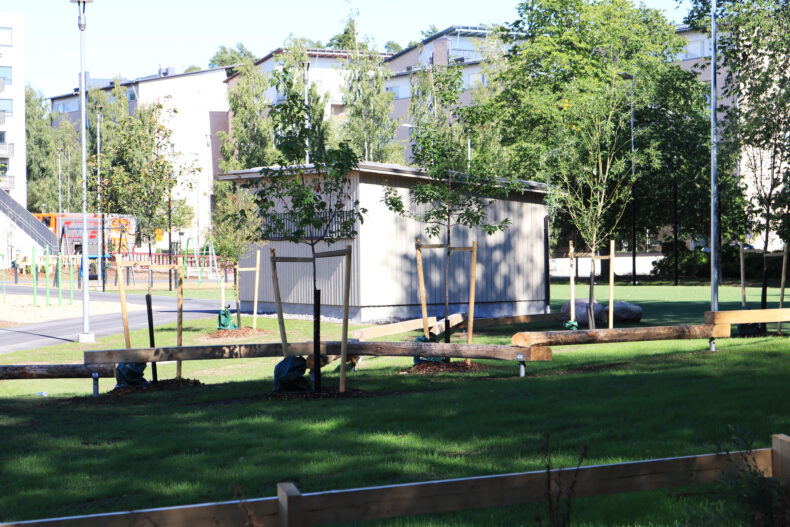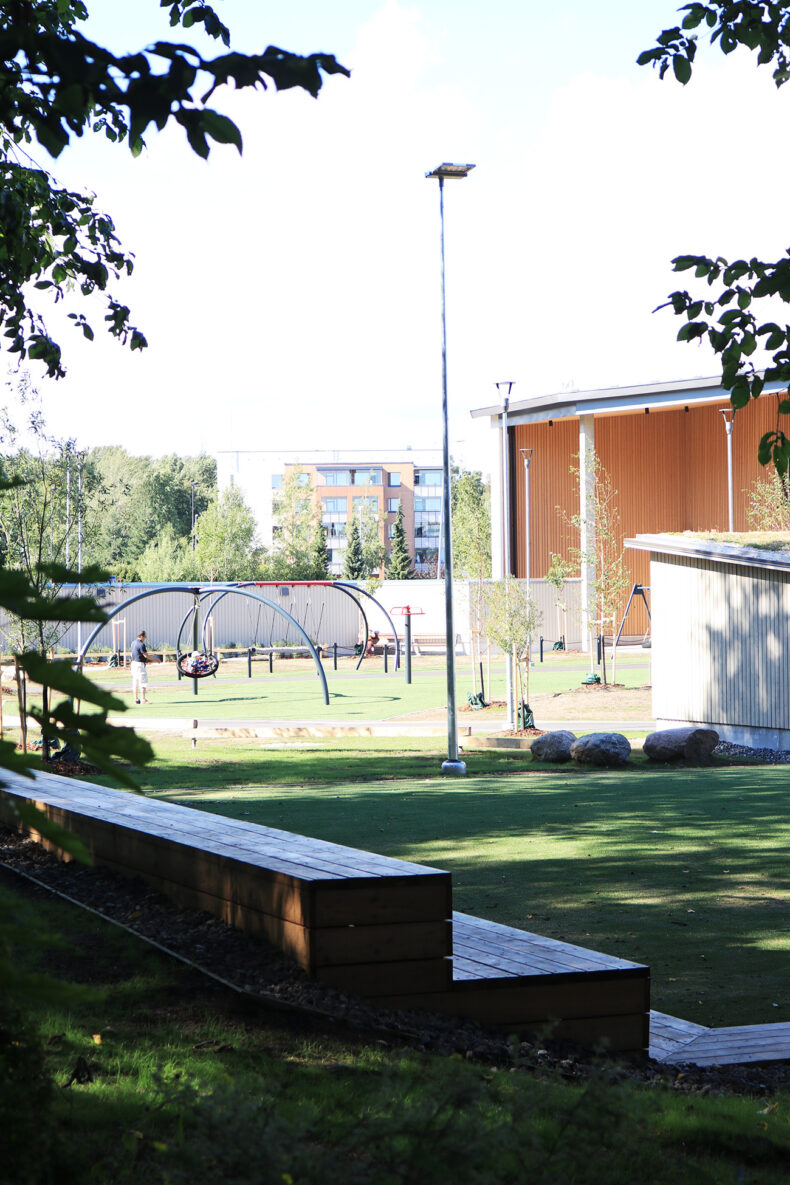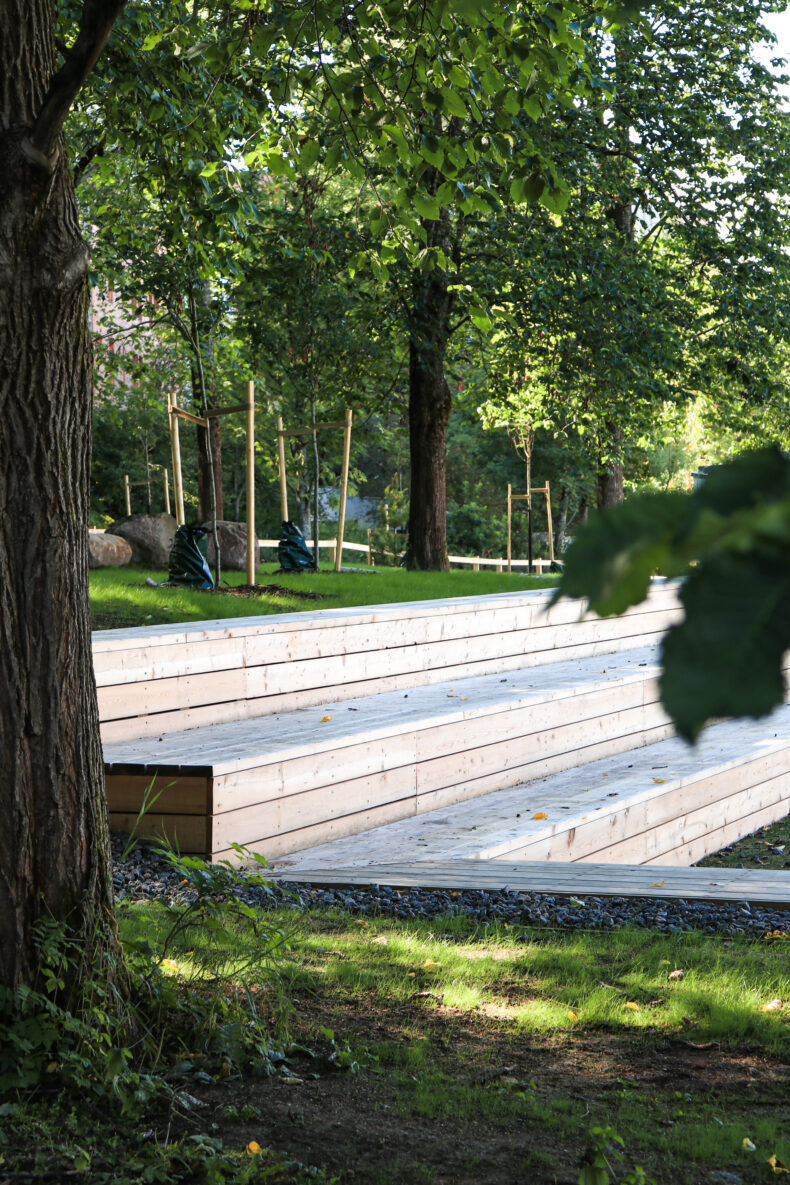 The noise from Itäväylä has been taken into account by placing the school building close to the border of the plot on the Itäväylä side. Between these, a wooden climbing wall was planned, which functions as both a noise barrier and an exercise element. Thanks to the solution, all elements that act as noise barriers are also a functional part of the school yard.
The yard was modeled to support the design work. The RTS environmental classification was used in the project, which led to the calculation of the green factor for the plot. To facilitate maintenance, diagrams were drawn up. All the main paths of the yard were designed to be accessible.