Location: Itäkeskus, Helsinki, Finland
Status: Competition entry, 2nd Prize
Year: 2019-2020
Organizer: City of Helsinki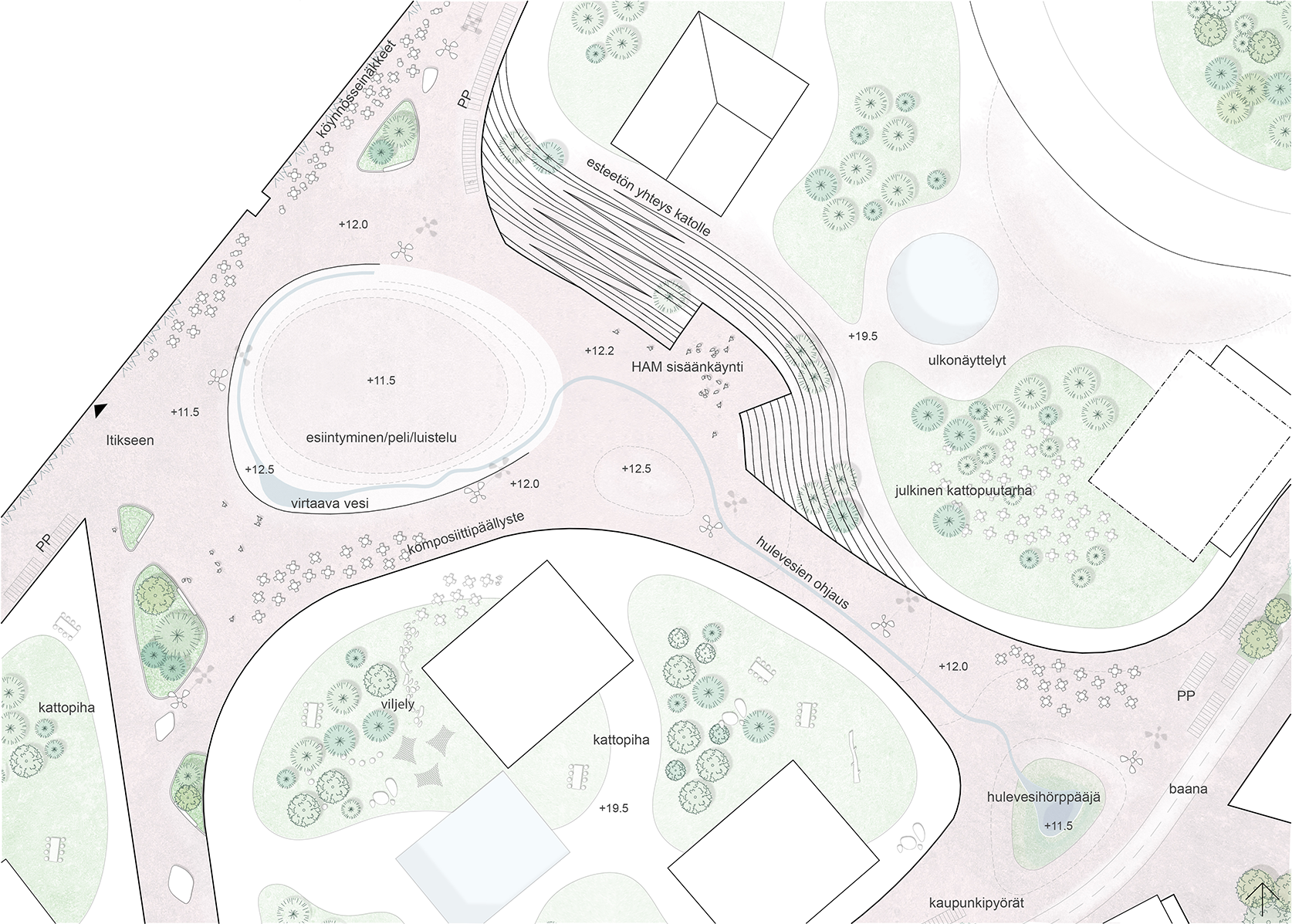 The City of Helsinki organized a general and international idea competition for the design of the most important areas of Itäkeskus and the Puotila metro station area. The proposal of our working group ITIS SITI was ranked second in the competition by the jury and recommended that the Puhos and Puotila areas be further developed on the basis of our proposal. In this extensive and challenging design task, we collaborated with a multidisciplinary design team. The purpose of the competition was to find innovative, inspiring proposals that support climate change mitigation as a basis for further planning and construction in the area.
Reference plan for Stoa and Puhos area
as the basis for town planning. The starting point for the supplementary construction in the Stoa and Puhos area is urban planning that enriches the area's diversity and stratification. Existing urban spaces, such as Stoa Square, will be more clearly defined and demarcated. A completely new urban space, Puhos park which is green and open for all will be created between the oldest part of Puhos and Turunlinnantie. The current important buildings in the area, Stoa, the Church of Matteus and the old part of Puhos, are a key part of the future identity of the area.
Improving the quality of the walking and cycling environment is one of the key starting points for the development of the area. Urban spaces form an entity that varies in its cityscape, is recognizable and reflects the temporal and cultural strata of the area. All the outdoor areas reflect playfulness, encounter of different cultures and urban ecology. The participation of residents and actors in the area, enabling leisure in the urban space, and attractive and safe places support the multiculturalism of urban spaces. The structures and materials of the outdoor spaces reflect the multi-faceted nature of the area and study, for example, the reuse of demolished structures and building materials.